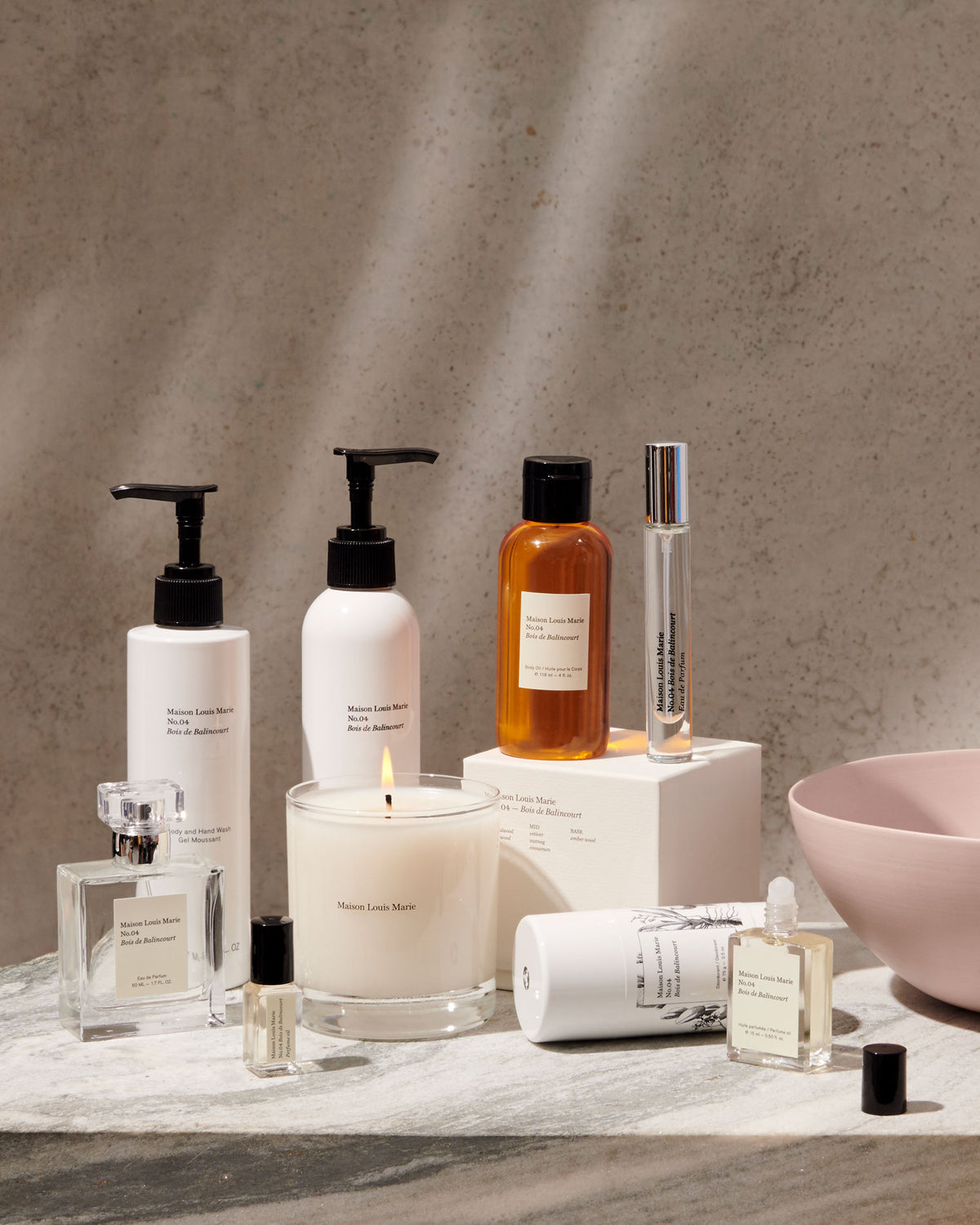 Deodorant
No.04 Bois de Balincourt
sandalwood
vetiver
amber wood
Surrounded by an ancient mysterious forest, Balincourt is the name of our family home where we took long walks on a magical trail called 'Lover's Lane'. This romantic scent is a Sandalwood fragrance with a dominant Cedarwood and Sandalwood accord that's supplemented by a spicy Cinnamon Nutmeg complex with an earthy Vetiver note.
Top note: Sandalwood, Cedarwood
Mid note: Vetiver, Nutmeg, Cinnamon
Details
Free of aluminum, parabens, phthalates, artificial dyes and baking soda our natural deodorant absorbs sweat and odor for long lasting effeciveness with a perfectly sublte addition of the No.04 Bois de Balincourt scent.
Ingredients
Propylene Glycol (BIOBASED), Water (Aqua), Sodium Stearate, Propanediol, Saccharomyces Ferment Filtrate, Diatomaceous Earth, Silica, Alcohol, Ployglyceryl-4 Laurate/Succinate, Fragrance (Parfum), Ployglyceryl-10-Caprylate, Tapioca Starch, Isopropyl Alcohol, Benzyl Benzoate


Formulated without: Parabens, Sulfates & Phthalates


Our promise: Vegan & Cruelty-free, Mindful of your body and the environment.
1% for the planet
Maison Louis Marie was founded on the principles of composing clean luxury fragrances while doing good for our planet. We joined 1% for the Planet because we believe the world needs us now more than ever—it's time to take responsibility.
1% for the Planet inspires people to support environmental organizations through annual membership and everyday actions. They advise on giving strategies, certify donations, and amplify the impact of the network.
This pledge means that we will be donating 1% of our revenues towards environmental causes.
Moving forward, our first partner will be the National Forest Foundation who works closely with the US Forest Service to address the pressing needs of our forests by planting native trees in areas that are desperately in need. Through our contributions, we will be planting thousands of native trees on a monthly basis. Reforestation efforts directly impact the decrease of carbon in our atmosphere, forest health & resiliency, watershed health, and the protection of the habitats of thousands of species that depend on the National forest habitats.
Learn More about 1% for the Planet
Learn more about our efforts with the National Forests Foundation